My sister sent me this recipe for homemade Artisan Bread. Of course I added my secret grain blend of: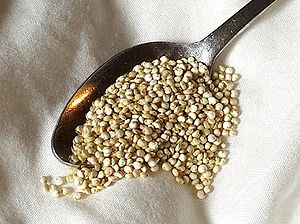 and quinoa to the mix.
Here's the Recipe:
In a 5 quart container that has a fitted lid mix the following:
3 cups lukewarm water
1 1/2 Tbsp yeast
1 1/2 Tbsp kosher salt or other course salt
6 1/2 cups flour
1 cup 11 grain blend (optional)
Mix in the flour 1 cup at a time, stirring with a wooden spoon.
Kneading is unnecessary!
You want a moist dough, but not runny. You may have to adjust the flour amount to get the right consistency.
Sorry my pictures are kinda crappy. My camera was being funny. (not ha ha...)
Loosely cover the container and let sit on your counter for about 2 hours. Then tightly cover the container and place in your refrigerator for at least 3 hours or overnight.
I wanted to try baking the bread in my dutch oven in the oven since we had great results baking it over coals in the fire pit. So I lined the dutch oven with tin-foil and sprinkled semolina flour around the bottom. Cornmeal will also work in place of the semolina.
Preheat your oven to 450 degrees with the dutch oven inside.
One batch of dough will make 2 large loaves in the dutch oven. Separate out half of the dough and gently shape in to loaf.
No need to knead!
Remove the dutch oven when the oven is done preheating and place dough inside.
Replace the cover and put in oven.
Bake for about 35 minutes.
The recipe says to slash the top of the dough with a serrated knife. I forgot to do that so the top is, well you can see. Not terrible, but not pretty either.
Let bread cool mostly then slice and enjoy!
Our friends love
dipping bread
and this works
wonderfully
! A little Balsamic Vinegar, Olive oil, and salt and pepper and you are good to go!
Personally we love
oven roasted garlic bread
.
Slice up bread and butter one side. Sprinkle with garlic salt and reform loaf. Wrap with tin foil and place in a 350 oven for about 15-20 minutes.
Remove, unwrap and, mmmmm.... Garlicy Heaven!
(Sorry there are no pictures. Too busy eating!)