My family loves
homemade pizza
. They would have it every day if I'd allow it.
So since we have this often, not every day mind you, but
often
, I needed to make it a little more healthy so I have some
secret weapons
to increase the nutrition.
First is
Bob's 10 Grain Cereal

.
I make a batch of this at the beginning of the week. I add it to my bread, or eat it for breakfast. When I cook it up, I add
Quinoa.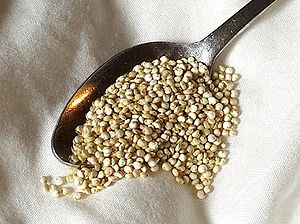 Quinoa is pronounced Keen-Wa
. I'm not sure where that pronounciation came from but there you go. It is the
most healthy grain
in my opinion. It is a complete protein. No other grain can make that claim. It also adds a nutty flavor to your foods.
Next is my Garlic Powder. A must for pizza.
So here's the recipe:
Makes 2 large pizzas, or 2 medium
pizzas and 2 bread sticks.
In your mixer combine the following, layering the ingredients:
1 1/2 cups cooked grain cereal or oatmeal
Mix well. It will be runny. Cover and let sit to "sponge" for 10-15 minutes.
Then pulse to release air.
4 Tbsp olive oil
1 cup flour to separate sponge from salt.
1 tsp salt
1 1/2 tsp garlic powder
(Feel free to adjust salt and garlic powder amounts to your taste. I have also used sea salt or kosher salt in place of the iodized table salt with excellent results.)
Mix adding flour until dough cleans the sides of the bowl. Add about 1/4-1/2 cup more flour. Knead for 10-15 minutes.
Separate dough into 1 3/4 to 2 lb size balls onto floured surface. Let rest for 5-10 minutes.
After it's done resting, you can shape your pizzas. It's great for the kids to help.
Be sure to add flour as needed to keep it from being too sticky.
Preheat oven to 450 degrees.
Next get out your parchment paper. Sprinkle
semolina flour
on parchment to keep pizza from sticking.
Assemble your ingredients. We recently discovered how good real bacon is on pizza. It was an accident because I forgot I didn't have any Canadian Bacon.
I must say, Real Bacon is much better!
Roll out your dough and cut with a pizza cutter to make breadsticks.
This batch I added a little cheese.
Bake for 8-9 minutes. I bake mine on my Pizza Stone. If you don't have one you can put the parchment directly on the wire rack in your oven. When the breadsticks are done, brush with Olive oil and sprinkle with garlic salt.
Top your pizzas with sauce, cheese, and your favorite toppings.
After baking, let cool slightly to make cutting easier.
PS.
You can use this dough to make pizza roll-ups or calzones. I've done both and they are super yummy!